This morning Mike's posted an excellent piece about how the Tories' latest set of anti-Semitism smears have provably zero credibility and are actually scoring own goals against the real party of anti-Semitism, islamophobia, hate and bigotry. Like the Jewish Chronicle's latest smear was reported to the Sussex police by Simon Maginn, because it contravenes electoral law. As does the claim by Alex Wickham, a former member of the suppurating Guido Fawkes massive, that Labour MP Dan Cardan sang the Beatles' 'Hey, Jude', but made it 'Hey, Jews', instead. Cardan didn't, the story's two years old, and other hacks, who were on the same coach and heard Cardan singing, deny it ever happened. Even the Tories.
But ordinary people are also taking to the Net to refute the allegations. There's this tweet from Tory Fibs, for example.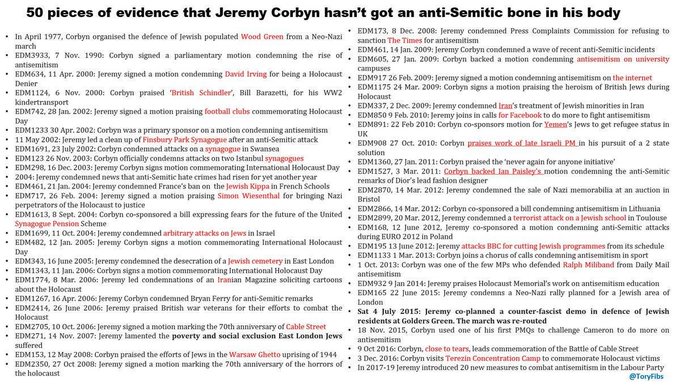 Tom London also put a tweet from Ian Fraser, containing a short video from JustJews, in which the very respected Jewish academic and journalist, Geoffrey Alderman responds to the Jewish Chronicle's allegations. He states that he wishes to allay such fears that voting for Corbyn would be a catastrophe for the Jewish community, and says that he has found that Corbyn has always supported them. He also says that the fact of the matter is that anti-Semitism is found throughout society, and to concentrate only on Labour is to present a very skewed perspective on it.
The video ends with a statement from JustJews themselves stating that they are an alternative to the lamestream media, and asking for support.
Tom London comments
Please retweet this
As a Jew who supports Corbyn, I have felt great anguish and anger at the weaponising of the deeply serious issue of antisemitism by Corbyns political opponents
Corbyn is NOT an antisemite
He is tackling the AS that exists in Labour Party in all good faith.
Jewish Voice for Labour also refuted the allegations
Labour Is A Safe Space For Jews. The proposition that the election of a Corbyn government would result in a widespread exodus of Jews is as risible as it is hyperbolic https://www.jewishvoiceforlabour.org.uk/article/labour-is-a-safe-space-for-jews/ …
And then there's the massive libel Guardian hack Jonathan Freedland committed when he claimed that Labour was fielding as their candidate for a Birmingham constituency an Asian lawyer, Majid Mahmood, who had been fined £25,000 for anti-Semitic comments. Except that, oops! They weren't. Freedland had confused the good lawyer with someone of the same name. Both the Groan and Freedland then distanced themselves from the remarks, with Freedland publicly retracting them and taking down the tweet. But the excellent Kerry-Ann Mendoza of The Canary commented.
Jonathan Freedland casually confusing two brown men in efforts to slander a policial opponent as an antisemite.
I won't be taking lectures on racism *or* responsible journalism from this hate merchant. Neither should you.
This is from the head of the online magazine, that is being targeted by Stop Funding Fake News and Private Eye for supposedly telling everyone fake news. Except they don't, but SFFN want you to believe they do in order to destroy a Corbyn-led Labour government.
But one person who spread the libel was ultra-pro-Israel rentagob Rachel Riley, who was also forced to retract it and apologise. Shaun Lawson commented
She's apologised.



She's also said – and I AM NOT MAKING THIS UP – "it's not my intention to spread untruths".



I thought they said irony died when Kissinger got the Nobel Peace Prize? It's still alive and well on Channel 4 game shows.
And A red sheep made this comment about the panic Dawn Butler apparently caused when she denied the allegations on TV.
Been watching @DawnButlerBrent asked about allegations of antisemitism against Labour on @SkyNews and @BBCNews.
Dawn sets the record straight but when she points out there's a genuine racist in Number 10 the interviewers go into a panic and talk over her.
Wonder why that is?

Could be something to do with the way the media – all the media – have been determined to push the anti-Semitism smears, even though some at least must know it's a lie. And the Beeb's newsroom is packed with Tories.
But all this shows how desperate the Tories and other smear merchants, like Rachel Riley, are to be pushing stories that are demonstrably wrong, and potentially libelous or which possibly contravene electoral law.
Just as it also shows that ordinary Brits, including Jews, are getting fed up with these lies and are finding new ways and new platforms to refute them.
For more info, see
https://zelo-street.blogspot.com/2019/11/tory-teaboy-sleeper-cell-activates-dead.html
https://zelo-street.blogspot.com/2019/11/rachel-riley-libels-lawyer.html
https://zelo-street.blogspot.com/2019/11/jewish-chronicle-labour-own-goal.html