Mike over on Vox Political has reproduced a series of tweets showing a video produced by EL4JC. This is a graph showing the cumulative proportion of left, right and centre guests on various Beeb news and politics programmes. The columns in the graph increase as the figures for each day and programme is added to the sound of Greig's 'In the Hall of the Mountain King' from the Peer Gynt suite. This ends by showing how massively biased the Beeb is in its selection of guests. Here's a shot of the last image.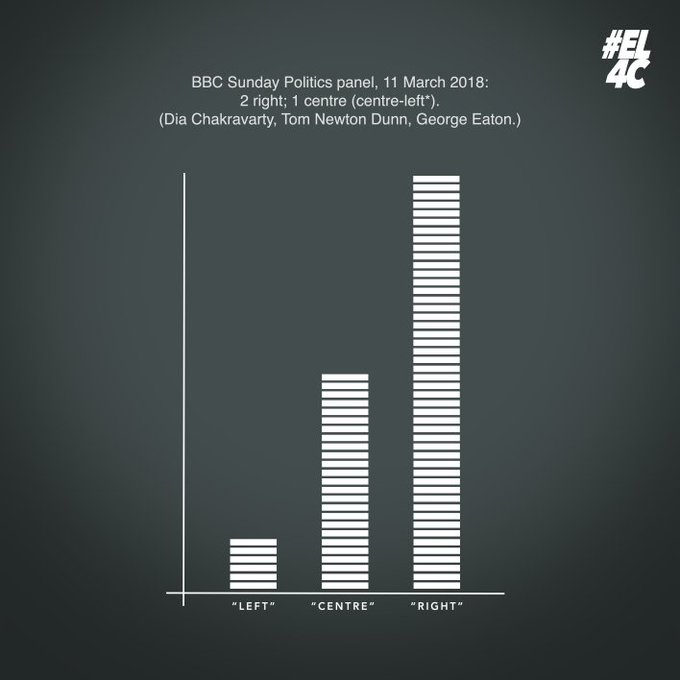 As you can see, the Beeb is massively biased in favour of the Right. Those guests, who are not from the Right are drawn far more from the Centre than the Left. One of those, who retweeted the image, Julie Houghton, commented
this is appalling. Retweet everyone and share. Sick of seeing right wing nutters having such a biased platform. Handed to them on a plate by the BBC & don't get me fucking started on right wing lying newspapers, distorting the truth. Something has to change.
Yes, it does. And this analysis of Beeb bias won't surprise anyone – not on the Left at least. Barry and Saville Kushner in their book, Who Needs the Cuts, tell how the Beeb on its news programmes always featured people supporting austerity to the exclusion of trade unionists, Labour politicos and protesters arguing otherwise. When these dissenting voices were allowed on, they were quickly silenced, or in some cases actually shouted down by the presenters. The media research departments at Glasgow, Edinburgh and Cardiff universities have also produced reports into Beeb political bias. They concluded that the Beeb is far more likely to have speaking on their programmes Conservatives and spokesmen from the City than Labour politicians and trade unionists.
But why this massive bias now? Mike also reproduces this image, containing a tweet from a former BBC newsman, Marcus Moore, and a graphic about the career of Sarah Sands, now editor of the Radio 4 Today programme.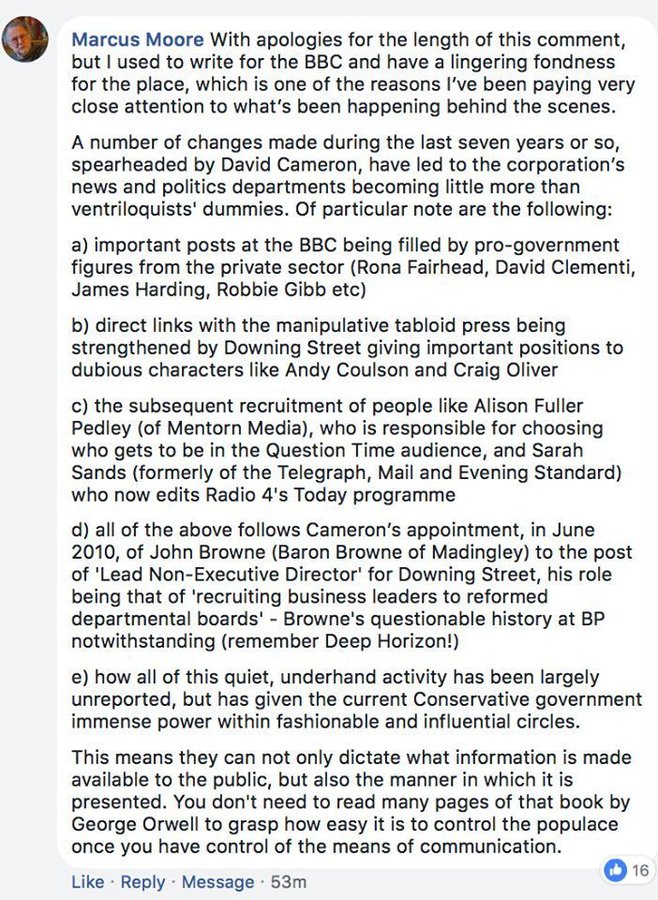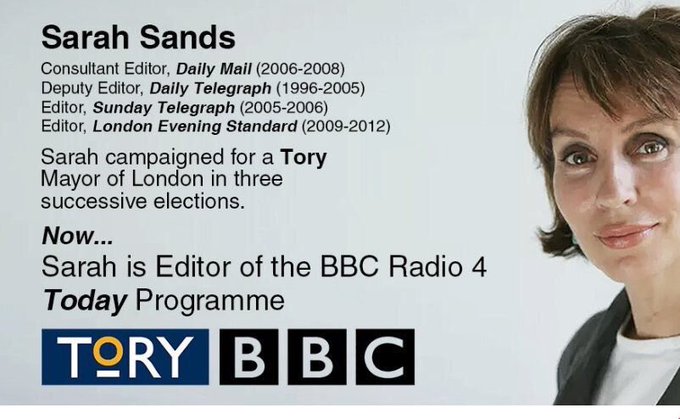 Moore's statement that this all follows Cameron's decision to appoint John Browne, formerly of BP, to the government department responsible for recruiting management and senior executives from private business to reformed government departments also deserves comment. I don't doubt that Moore's absolutely correct in that the ultimate responsibility for all this lies with Cameron. But Tony Blair was also keen to have the BBC parrot lines spouted by New Labour. And the appointment of private business people to the heads of government departments was not only a New Labour corporatist policy, but also that of the Nazis in their promotion of private industry. Not that the Beeb wasn't biased in favour of the Tories long before that.
So where should people go for proper information?
Mike suggests that people would be better served taking it from social media, and the independent sources that so terrify the establishment media. So much so that there are now groups like Stop Funding Fake News, who adopt a spurious concern to prevent people getting their news from extremist sources. By which they mean websites like The Canary, which supports Jeremy Corbyn, but is not 'extremist' nor does it retail false information. The establishment claim that people taking their information from online sites like The Canary is not only fueling extremism, it is also destroying the ideological consensus built by people all reading and watching the same newspapers and news programmes. In other words, they're afraid that people are moving away from them and their influence is being undermined by their online competitors.
Good.
The lamestream media are all pushing, to a greater or lesser degree, the same Thatcherite policies that have done so much damage to our country, and have destroyed so many lives – of the unemployed, the poor, and the disabled. It deserves nothing but our contempt, and people are far better advised looking at excellent left-wing blogs and sites like The Canary, The Skwawkbox, Novara Media, Evolve Politics, Vox Political, Zelo Street, Another Angry Voice, the Disability News Service and so on.
But Mike's piece also concludes with a tweet from Mike Smart, warning people only to take their anger out on Beeb news programmes. Otherwise they will play into the hands of the right-wing and corporate shills wishing to privatise the Beeb altogether.